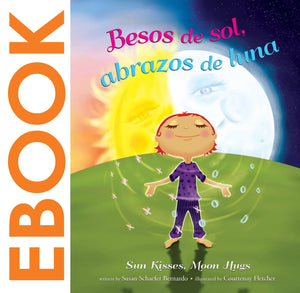 Besos de sol, abrazos de luna: Sun Kisses, Moon Hugs (Bilingual) eBook
Regular price
$0.00
Sale price
$9.95
Unit price
per
Besos de Sol, Abrazos de Luna es una versión bilingüe español-inglés de Sun Kisses, Moon Hugs, un hermoso libro de cuentos ilustrado con un mensaje simple pero poderoso: el amor dura para siempre.
Escrita lírico y ilustraciones encantadoras proporcionan una lectura perfecta para cualquier niño. El libro también es ideal para apoyar a los niños en situaciones del dolor, ansiedad por separación, el divorcio, la enfermedad, la mudanza u otras situaciones traumáticas, envolviéndolos en una manta de seguridad cálida y reconfortante y abriendo un diálogo sobre la naturaleza del amor. Incluso cuando los seres queridos no pueden estar con nosotros, podemos sentir su presencia a través de nuestras profundas conexiones con el mundo natural.
Besos de Sol, Abrazos de Luna ha recibido excelentes testimonios de padres, bibliotecarios, trabajadores sociales, maestros, cuidadores de hospicio...y lo más importante, de los niños.
Besos de Sol, Abrazos de Luna es ganador de la Medalla de Oro del International Publishers Award y obtuvo un lugar destacado en la aplicación LeVar Burton Kids Skybrary.
Leyendo Besos de Sol, Abrazos de Luna juntos es una forma maravillosa de introducir la alegría de la lectura a los niños, aumentando al mismo tiempo su dominio del español y el inglés. Éste es también un maravilloso puente de enlace para los hogares de doble idioma, y una manera para que las familias permanezcan conectadas aún en la distancia. El texto paralelo escrito en español e inglés, acompañado de coloridas y encantadoras ilustraciones, es ideal para los estudiantes de inglés y las aulas de preescolar y primaria de inmersión en ESL o español.
El libro fue nombrado "Libro del Mes" del Día de Concientización sobre el Duelo Infantil, y también ha sido presentado por tres años consecutivos en el Día del Libro Multicultural Infantil.
******
Besos de sol, abrazos de luna is a Spanish-English bilingual version of Sun Kisses, Moon Hugs, a beautiful picture book with a simple but powerful message: love lasts forever.

Lyrical writing and delightful illustrations provide perfect bedtime reading for any child. The book is also ideal for supporting children through grief, separation anxiety, divorce, illness, moving or other traumatic situations, by wrapping them in a warm and comforting emotional security blanket and opening a dialogue on the nature of love. Even when loved ones cannot be with us, we can feel their presence through our deep connections to the natural world.

Sun Kisses, Moon Hugs has received glowing testimonials from parents, librarians, social workers, teachers, hospice caregivers...and most importantly, kids.

Sun Kisses, Moon Hugs is a Gold Medal winner of the International Publishers Award, and a featured title in the LeVar Burton Kids Skybrary app.

Reading Besos de sol, abrazos de luna together is a wonderful way to introduce children to the joy of reading while simultaneously growing their proficiency in both Spanish and English. This is also a wonderful bridge book for dual-language households, and a way for families to stay connected across the miles. Parallel text written in both Spanish and English, accompanied by colorful and engaging illustrations, is ideal for English language learners and ESL or Spanish language immersion pre-school and primary classrooms.

The boo­k was selected as a Child's Grief Awareness Day book-of-the-month, and also featured three years in a row for Children's Multicultural Book Day.
---
Share this Product