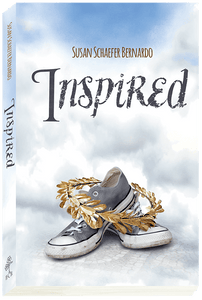 Inspired - Paperback
Regular price
$15.00
$0.00
Unit price
per
Middle School Meets Greek Mythology!
Plot Summary:
As if life weren't complicated enough, teenager Rocket Malone has just learned that her mysterious Aunt Polly is actually Polyhymnia, a Greek Muse who desperately needs her help. Now Rocket needs to juggle middle school and apprentice Muse training, learn how to ride Pegasus and blow glass, battle Zeus and catch a crazed nymph named Echo -- all without losing her best friend or looking like an idiot in front of her crush Ryan. As she strives to inspire others, Rocket learns to trust her own voice and realizes that the most important spark she must ignite is her own -- because the brighter she shines, the more she lights the way for those around her.
"The perfect blend of history, fantasy and entertainment. " — Publisher's Weekly Booklife Prize
​
"Delightful, insightful, and charming as it encourages kids to face their obstacles and chase their own passions." — Foreword Reviews

Reviews for Inspired:

From Publisher's Weekly Booklife Prize
Bernardo's fast-paced novel takes readers through the emotional roller coaster of being a teenager trying to find her identity...Bernardo draws upon classical and contemporary literature and mythology to present the perfect blend of history, fantasy and entertainment.

​From Foreword Reviews, May/June 2018 issue
Rocket Malone is not thrilled with the direction her life is taking. Her mom has just remarried, and they are moving from their hip cottage in Venice Beach to her stepfather s home in Hollywood. Her best friend, Gillian, has a new friend and a new boyfriend, and Rocket feels left behind. When she finds out that her mother is pregnant with twins, she is furious. All of these problems are quickly overshadowed when Rocket discovers that she is descended from the Greek muses,and is therefore obligated to serve as an apprentice to the nine mythological sisters. Rocket sees herself as smart but not creative, and apprenticing to the muses does not come naturally to her. She tries to help several people, but just cannot find the right person to aid.

Along with the fun, intelligent story about Greek gods, muses, and other mythological figures, Inspired captures the trials and tribulations of discovering oneself while dealing with the challenges of middle school. Rocket does not want her life to change, but she must adapt, learning to share her mom and her best friend while finding new ways to create her own joy.

Rocket and her friends have some very serious problems. Rocket s father committed suicide; her mother is in the midst of a high-risk pregnancy. Her friend Ryan lost his sister in a car accident and then was abandoned by his father; the home he shares with his mother is destroyed in a fire. These issues are thoughtfully addressed in the story as the adolescents learn not to blame themselves, to accept what is, and to help one another through the hardest parts.

Inspired is delightful, insightful, and charming as it encourages kids to face their obstacles and chase their own passions.

Book review by Joy Of Young Women grad, Lanna Kroger
I have had the pleasure of reading "Inspired" by Susan Schaefer Bernardo (susanbernardo.com). The main character Rocket is relatable, yet with her own uniqueness. It's a great coming of age book that talks about accepting ourselves and the changes that happen to our bodies in these years. A fast book full of reality and magic.

Rocket's story keeps you coming back for more. I think this is a great book to recommend or even use in girls' circles. It covers her starting her cycle and the ups and downs of teenage life.

"Inspired" covered some social problems that Rocket keeps pushing ahead on, even though they are painful. It sends the message of self acceptance and love.

– Lanna Kroger, JOYW grad

---
Share this Product